WWW
(World Wide Web)
Testo

Bibliografia

10

Video

1

Links

4

Voci correlate
Ambiente per la pubblicazione e la condivisione di documenti ipertestuali (pagine
web
) in reti
WAN
e
LAN
. Il funzionamento generale si basa sull'interazione tra
client
e
server
, attraverso il protocollo HTTP (
HyperText Transfer Protocol
).
Nasce nel 1990 nei laboratori europei di Ginevra del CERN (
Conseil Européen pour la Recherche Nucléaire
) come uno strumento finalizzato alla gestione e trasmissione di comunicazioni scientifiche nell'ambito delle ricerca in fisica nucleare. Tim Berners-Lee, l'ideatore del sistema, presenta in quell'anno una fondamentale relazione intitolata
Information management: a proposal
in cui vengono forniti i lineamenti del linguaggio HTML (
HyperText Markup Language
) un codice di 'marcatura' dei testi potenzialmente leggibile da qualsiasi piattaforma
hardware
nell'ambito delle trasmissioni di rete. Una delle novità, rispetto ai precedenti protocolli di trasmissione, è data dalla possibilità di visualizzare immagini e di creare connessioni (
link
) ad altri documenti presenti nel sistema. (
Ipertesto
)
Nel 1993 viene realizzato e diffuso gratuitamente Mosaic il primo
client Web
(
Browser
) che permette a qualsiasi utente connesso l'accesso alla totalità dei documenti presenti su WWW. Nell'arco di pochi anni il sistema raggiunge una diffusione planetaria e capillare. (
Internet
)
G. N.
Foto
Non ci sono foto per questa voce
Video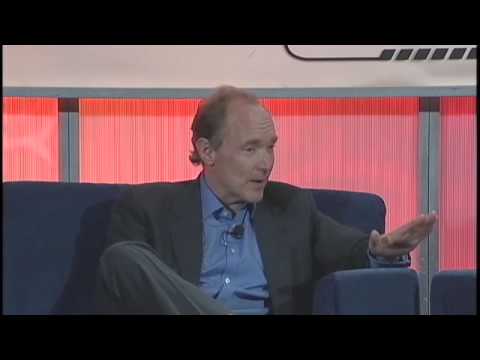 Sir Timothy "Tim" John Berners-Lee, direttore del World Wide Web, sul web 2.0 e sulla storia del World Wide Web in generale.
Bibliografia
BANKS Michael, On the way to the web. The secret history of the internet and its founders, Apress, New York 2012, E-book disponibile.
BARCELLONA Pietro, La parola perduta. Tra polis greca e cyberspazio, Dedalo, Bari 2007.
BULLOCK Linda, The World Wide Web, Raintree Steck-Vaughn, Austin (TX) 2003.
CASTRO Elisabeth, HTML, XHTML e CSS per il World Wide Web, Tecniche Nuove, Milano 2007.
GILLIES James - CAILLIAU Robert, How the Web was born, Oxford University Press, Oxford 2000.
IRVINE Martin, Web Works, W. W. Norton & Company, New York 1996.
PARISER Eli, Il filtro. Quello che internet ci nasconde, Il Saggiatore, Milano 2012.
ROSENFELD Louis - MORVILLE Peter, Architettura dell'informazione per il World Wide Web, Tecniche Nuove, Milano 2002.
TURKLE Sherry, Insieme ma soli. Perché ci aspettiamo sempre di più dalla tecnologia e sempre meno dagli altri, Codice Edizioni, Torino 2012.
TURKLE Sherry, Reclaiming conversation. The power of talk in a digital age, Penguin Press, London 2015.
Documenti
Non ci sono documenti per questa voce
Come citare questa voce
Nicolosi
Giuseppe ,
WWW (World Wide Web)
, in Franco LEVER - Pier Cesare RIVOLTELLA - Adriano ZANACCHI (edd.),
La comunicazione. Dizionario di scienze e tecniche
, www.lacomunicazione.it (05/06/2023).

Il testo è disponibile secondo la
licenza CC-BY-NC-SA
Creative Commons Attribuzione-Non commerciale-Condividi allo stesso modo
1362